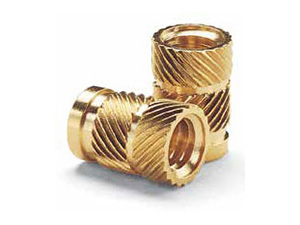 Dodge® inserts for plastics and fragile materials are used to achieve metallic thread performance in a plastic part.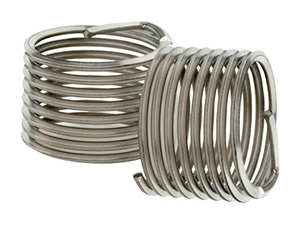 Heli-Coil® threaded inserts improve serviceability in threaded assemblies in a variety of original equipment and repair applications.
Services
VMI
A proven process that allows you to focus your operations, purchasing, quality and accounting resources on your critical parts.
Blanket Orders
To take advantage of volume buy and low inventory holding cost, Fasteners West will buy, stock and release the products as you need it.
Long-Term Agreements
Customized and structured to suite your specific industry needs.
---
Other Fasteners West Products
Brass Inserts (Dodge)
Blind Rivets
Cable Ties
Dowel Pins & Springs
Electronic Power Insert Installation Tools (Helicoil)
Hand Insert Installation Tools (Helicoil)
High Strength Screws
Machine Screws
Nuts & Nutplates
Pneumatic Insert Installation tools (Helicoil)
Socket Screws
Solid Inserts
Solid Rivets
Spacers and Standoffs
Washers
Wire Inserts (Helicoil)
Wire Inserts
MS21208 & 21209
MS122076 thru 122254
MS124651 thru 124829
MA3279 thru 3281
MA3329 thru 3331
NAS1130
Dodge Brass Inserts
6035 Series Tapered Ultrasert
6041 Series Tapered Ultrasert
6075 Series Tapered Ultrasert
UBXXXXXX Series Straight Ultrasert
UFBXXXXXX Series Straight Ultrasert
UFBMXXXXX Series Straight Ultrasert
700XX Series Expansion Insert
74115 Series Spread-Lok Insert
74215 Series Flanged Spread-Lok Insert
Solid Inserts
M45932
MS51830 thru 51832
NAS1394 & 1395
Dowel Pins & Springs
MS9390
MS16555 & 16556
MS16562
Machine Screws
MS24693 & 24694
MS35206 thru 35276
MS35307 & 35308
MS51957 thru 51960
Socket Screws
MS16995 thru 16998
MS24671
MS51975
NAS1351 & 1352
Washers
AN960
MS15795
MS20002
MS35333 thru 35338
NAS620
NAS1149
High Strength Screws
NAS514
NAS600 thru 603
NAS1096
NAS1100 thru 1102
NAS1189 thru 1191
NAS1303 thru 1308
NAS1801 & 1802
Solid Rivets
AN123151 thru 125700
MS20426 & 20470
NAS1097
NAS1198 thru 1200
NAS1241 & 1242
Blind Rivets
M7885
NAS1398 & 1399
NAS1738 & 1739
NAS9301 thru 9309
Nuts & Nutplates
AN310 thru 320
MS25082
MS35649 & 35650
MS51967 thru 51972
NAS509
NAS671
NAS1423
MS21042 thru 21083
NAS577 & 578
NAS679 thru 698
NAS1021 thru 1029
NAS1067 & 1068
NAS1291
NAS1473 & 1474
NAS1791 thru 1794